Fusion restaurant - new opinion on traditional cuisine
07 August 2018, News
This fusion restaurant serves wide variety of cuisines, but now we want to introduce you Chinese, specifically traditional, outstanding dish - Dim sum. To its creation our chef, Roman Shchurko, adds his groundbreaking angle.
It may seem that dim sum is a main dish. However, that is not right. Dim sum was created as a snack for pilgrims, who traveled the Silk Road. Teahouses, where travellers pulled in for a short rest, were established along the roadside. Dim sum was cooked for their quick recreation. It was served in a bamboo boxes and always with a hot drink. Hence, this cuisine has another name - "yum cha", which means "drink tea" in Chinese.
As far as that time travellers had been passing information like nowadays "jungle telegraph", the glory of hearty dim sum spread all over the world. Of course, over the time appeared new dishes, recipes, tastes, so Chinese masterpiece was forgotten everywhere, except its native country. Because of affordability to all social groups and cooking time, dim sum has become an integral part of Chinese culture in general, not only traditional cuisine. Today, Hong Kong and other bit cities are filled with mono restaurants, where you are offered a variety of tastes, shapes and colors of this dish.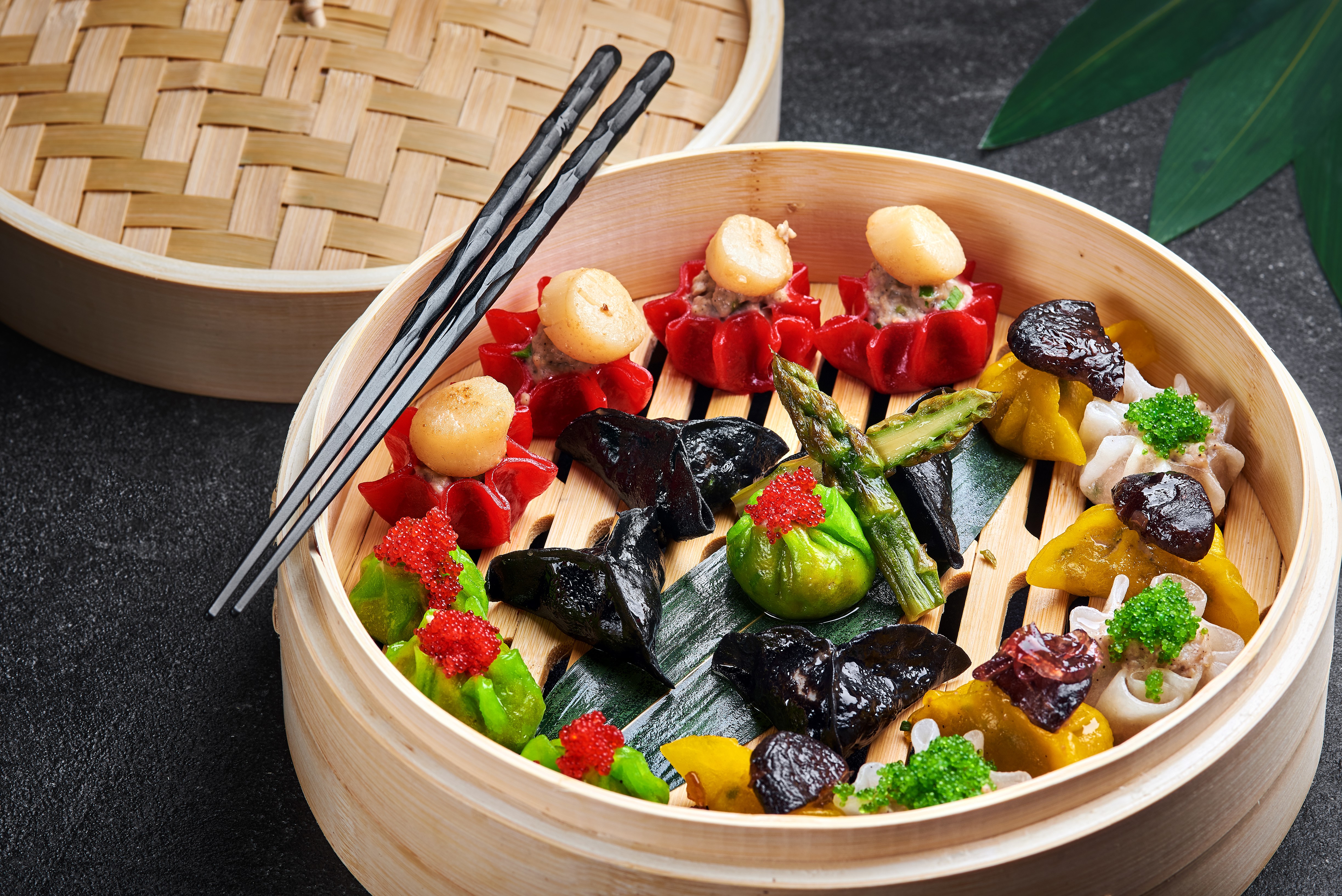 Not so far ago, Lviv went for Chinese cuisine, for example dim sums. Our fusion restaurant chief is ready to seek inspiration worldwide! Therefore, after visiting Hong Kong, he was imbued with its traditions. However, taking into account tasting sensations of the Europeans, in particular Lviv residents and guests of the city, Roman Shchurko combines classic recipes with innovative skills while cooking dim sums. Thus, a dish is cooked according to the unique recipe in the special steamer and served in a bamboo box.
"Scallops, shrimps or salmon - special combination stuffing dim sum" - says our chief enthusiastically and advises you to try it first. But, you have a great choice! Menu contains the top-5 most popular flavors. Vegetables, chicken or veal - filling may be as different as their shapes and colors. By the way, colors are obtained from natural ingredients- carrot fresh juice, beet juice, squid ink, etc.
We expect you to come and taste! It will be an ideal amusement - in the right place, with panoramic views on the Lviv city centre in the tangible atmosphere of unconditional love for legendary dim sums. We fell in love with it a long ago! That is why it is cooked passionately, aiming to touch your heart according to the dish's name.