10 best restaurants in Lviv
12 March 2021
The must-see places in the ancient city of Lviv include not only historical monuments and the High Castle. In fact, Lviv's thematic and atmospheric restaurants are those places that leave genuine memories of the city. It is not surprising as the gastronomic impressions are considered to be the strongest of all the senses. There are lots of restaurants in the city but only a few dozens among them meet high standards. We chose only those places that would for sure please everyone. After all, the best restaurants in Lviv on our list were defined by analyzing the reviews of guests and professional critics. The list includes establishments in the following categories: breakfasts, wine shop, concept cafe for pleasant communication, burgers, Italian restaurant, establishment with Ukrainian cuisine, barbecue restaurant, bar. Those establishments in Lviv that earned the love of visitors and managed to impress meticulous critics are definitely worth a visit. There you can enjoy their unique atmosphere, taste original dishes, delicious desserts, and fragrant drinks. Therefore we selected the best restaurants in Lviv.
Split
The establishment has a pleasant atmosphere created by a combination of highly qualified service, exquisite cuisine, and well-thoughtf interior details. This is confirmed by the numerous positive reviews from guests who recommend the restaurant to their dearest ones.
The restaurant offers authentic Pan-Asian cuisine from the chef and the chef's fusion interpretation of the Italian, French, and Ukrainian cuisines. The cooks use innovative cooking methods which emphasize the taste of food, freshness, and quality of ingredients. Original and creative serving of dishes and cocktails brings delight and unique emotions for guests.
The restaurant`s and bar`s menu is regularly updated. The club masters offer also a hookah with exclusive combinations of flavors and aromas so that each guest can enjoy and relax. It is sure that this place has an ideal atmosphere for casual communication and high-quality leisure.
Thanks to the unique solutions, the highest level of service and constant improvements this establishment managed to gain the visitors` trust.
Address: 6/7 Mickiewicz square
Average bill: 600-1000 UAH
Cuisine: European, Chinese, Fusion, Japanese, Asian, Pan-Asian, chef`s specialties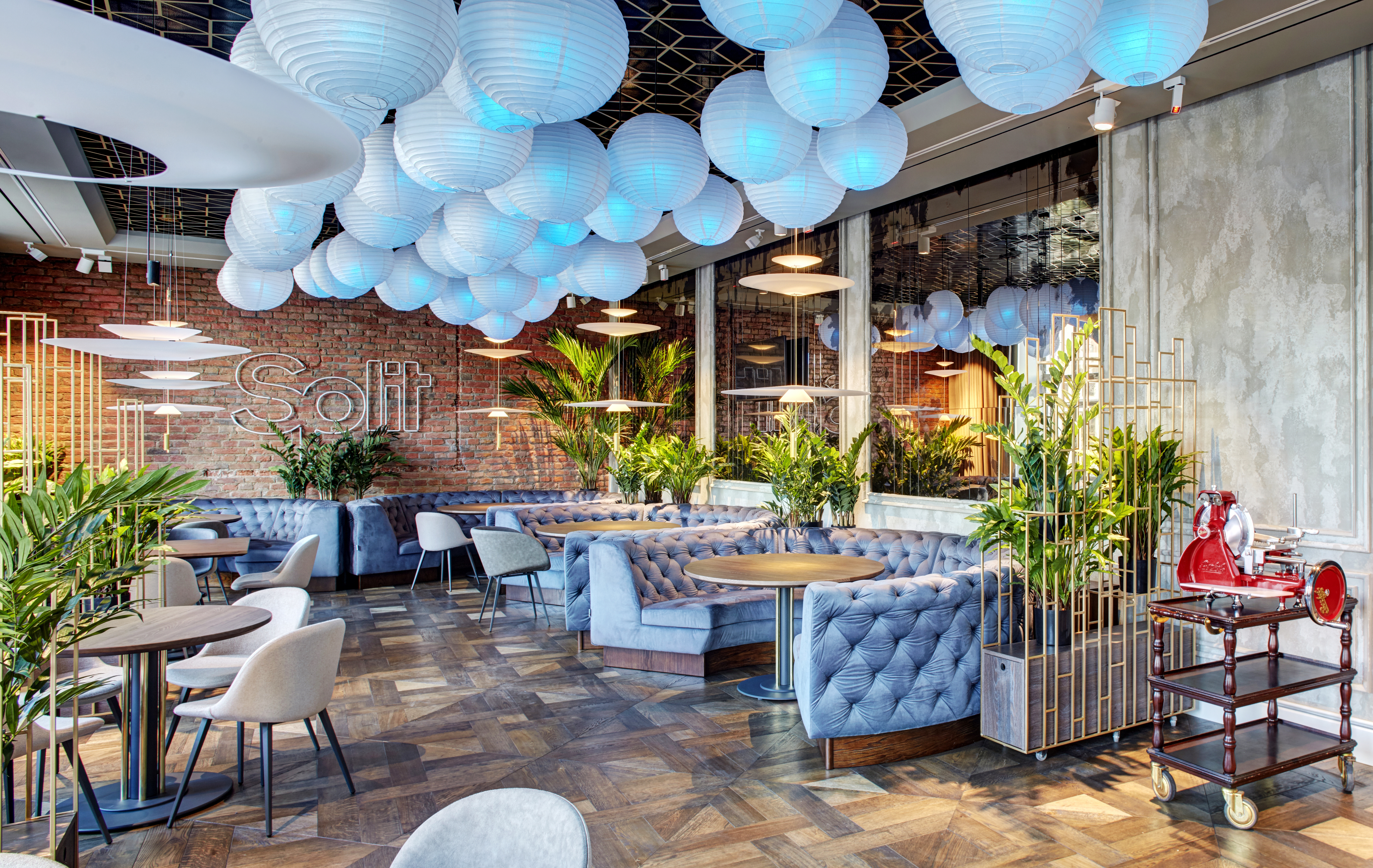 SHoco
You can enjoy healthy and filling breakfasts, author's desserts, crispy pastries, and freshly ground coffee of the finest selection in this establishment. Buns and croissants have become the feature of this bakery and confectionery. If you want to feel as if you were in Paris, come here for a muffin. It is a perfect to visit with children.
Addresses: 200a, Kulparkivska street
44, A. Sakharova street
3, L. Kurbasa street
Average bill: 150-200 UAH
Cuisine: breakfasts, desserts, alcohol
Prague
The highlight of this wine shop is its non-standard approach. Here you can not only buy wine from the world's best producers but also taste it and listen to the interesting stories about the beverage. The restaurant serves dishes of Pan-Asian cuisine which are accompanied by a glass of wine selected in accordance with the dish. An experienced sommelier will help you to choose the right alcoholic beverage for your meal.
Address: 8, Hnatyuka street
Average bill: 400-500 UAH
Cuisine: Pan-Asian, European
vinoteca-praha-wok-wine.business.site
Para Janov & Port wine
The restaurant serves delicious snacks and most importantly good wine. The interior of this cozy concept restaurant creates an ideal atmosphere for communication. Interesting snacks with their wonderful taste will surprise even the most picky gourmets and delicious drinks will create an uplifting mood. In the spring and summer you can sit in the old courtyard with a cup of fragrant coffee or a glass of port wine.
Address: 12, Lesya Ukrainka street
Average check: 400-500 UAH
Cuisine: Eastern European, Armenian, Georgian
www.facebook.com/parajanovportwinebar
True Burger
This place will change your idea of burgers. What make this establishment so popular are freshly baked buns, grilled cutlets, vegetables, and original sauces. The café also serves vegetarian burgers, delicious desserts, and hot snacks.
Address: 3, Mykoly Voronoho street
Average bill: 300 UAH
Cuisine: American
Tartufo trattoria
To immerse yourself in the atmosphere of Italy, it is not necessary to buy a plane ticket, you can do that in Lviv, too. Visiting Trattoria Tartuffe you get a unique chance to enjoy Italian cuisine. The menu includes traditional Mediterranean snacks, the famous Neapolitan pizza, always fresh seafood, and prosecco.
Address: 7b, Pid dubom street
Average bill: 400-500 UAH
Cuisine: Mediterranean, Italian
Trapezna Idey
The restaurant is located in the cellars of the former monastery of the Bernardine Fathers and gives you the opportunity to taste traditional Galician cuisine. The interior of the establishment allows you to feel the spirit of the epoch. Its thick stone walls, well-chosen decor elements, and dimmed lights make you forget what century is outside. The tastiest dishes of the local cuisine won`t leave anyone indifferent because the best way to get to know the region is to try its traditional food.
Address: 18A, Valova street
Average bill: 250-300 UAH
Cuisine: Ukrainian
Caucasus
Meat lovers should definitely visit this colorful restaurant. The name itself says that the best kebab seasoned with traditional Caucasian spices and spicy sauces can be tasted only here. The menu of this atmospheric establishment includes also juicy khachapuri, traditional lamb pilaf, and kharcho soup.
Address: 2, Shota Rustaveli street
Average bill: 600-700 UAH
Cuisine: Armenian, Georgian, Oriental
Que Pasa
Que Pasa is the perfect place for fans of Latin American cuisine. In the concept bar you can taste not only Mexican cuisine but also hot Cuban cocktails and other intoxicating drinks which are the feature of this place. The atmosphere will bring you from rainy Lviv to the sunny beaches of Latin America.
Address: 12, Drukarska street
Average bill: UAH 400
Cuisine: Mexican, Latin American
It doesn't matter if you are a tourist or a local as visiting these establishments will create vivid emotions and you would definitely like to come back again. Now you do not need to experiment and choose a good restaurant among the hundreds that exist in Lviv. All you have to do is pick from the list the one whose cuisine suits your preferences, and it will for sure become a favorite place to relax with friends, to have romantic dates, family dinners or just to have breakfast on your own.