Event hall
Are you looking for a place in the center of Lviv for your wedding party or celebration? Are you planning a private party or conference, workshop, corporate party? Welcome to Split! The cause is on you, the arrangements in the best restaurant of Lviv – on us. Entrust us with your event and it will stand out in your and your guests' minds.
Banquets in the restaurant situated in the center of Lviv
Banquet hall of the Split restaurant in Lviv center is the place, where your event will be held on the highest level. Banquet or buffet in the city center has numerous benefits – from ancient city view to the level of event organization. You must admit that the place of celebration is crucial for its success. It has to be convenient by location and cozy inside. Split Lviv is a restaurant in the center of Lviv, advantageous for your events. It is no longer necessary to look through wedding catalogues, think over the arrangement of corporate party for a long time, as well as a birthday celebration in Lviv center. We figured everything out for you!
Fusion restaurant Split Lviv is a modern banquet-hall for hosting events of various scale: banquets for up to 120 persons, buffets for up to 300 persons. Total area of the banquet-hall is 600 sq.m, which allows to bring any idea to life! The interior of the fusion restaurant combines classic and modern loft. The banquet atmosphere will answer your preferences: sound, light and climate control system will be adjusted for each event on an individual basis. Due to modern lighting and sound equipment, as well as smart conditioning system, the hall may be divided into separate areas for buffet, banquet, candy bar, dance floor, stage and photo zone.
Multimedia system of the restaurant is powerful. 11 plasma TVs may be used for broadcasting of your own visual content. For example, you may show your guests your love story during wedding party. A "behind the scenes" movie during corporate party, promo videos during the conference.
To know more information and details of celebration arrangements, please call: +38 032 242 22 00.
Banquet menu of the restaurant
We guarantee, that your events, hosted in Split Club banquet hall, will have unforgettable aftertaste! Literally. Roman Shchurko, our chef with 17-years experience presents a brand new focus on traditional food – real fusion. Uncommon combinations of familiar ingredients will surprise even the most demanding gourmets. You may try trendy Pan-Asian cuisine, represented by Japanese, Chinese, Vietnamese and other oriental dishes. If you are a classic cuisine lover, we'll offer you Ukrainian and European cuisines.
We prepare a banquet menu, considering all your requirements. It is very important for us that you and your guests have a pleasant aftertaste of the event, hosted in our establishment.
Variants of the guests seating
We offer you variants of your guests seating, developed on an individual basis. The banquet seating is designed individually for each event, considering the number of guests and your own vision of the event. We aim to create comfort and coziness for each and every guest.
Maximum number of guests at a banquet – 120 persons.
Maximum number of guests at a buffet – 300 persons.
Our capabilities
Lighting according to the theme and color scheme of your event.

Lighting, different in style and colours for different areas of banquet-hall.

Sound equipment of high quality.

Sound zoning (different music / volume in different areas of the hall).

Radio microphone.

Projector, big screen, plasma TVs around the perimeter of the banquet hall for any content: photos, videos, online broadcasting, advertisement from MC, specialists in floral decor, etc.

Singers, bands, DJs.

Photographing and video recording.

Arrangement of bachelor or bachelorette parties.
Arrangements for banquets
Lease of the whole hall is possible on any day of a week if intended date is not booked for some other event.

The advance payment is required for reservation of the hall.

Contract for the provision of services shall be deemed as order confirmation.

Upon advance payment (according to our deposit system) the hall may be booked for you.

The menu includes exclusively products of the Split Club.

Service charge amounts to 15% of the bill.
Conference hall for business events in Lviv
Are you planning a business event? Do you need a conference hall in the center of Lviv? Split Club is the best place to host business events in the city center.
The club is situated near the Mitskevych monument and the Opera House. Fusion restaurant with a total area of 600 sq.m is equipped with advanced light and sound systems. For your presentations, photos and video content we offer 11 plasma TVs, allowing to show them around the perimeter of the restaurant. It is not just another conference hall in Lviv, it is a space, where your business goals will be reached, and you will be heard and noticed.
Fusion restaurant of the Split Club Lviv is suitable for business breakfasts and corporate dinners. If you will have a buffet, we will think everything out to the last detail: from the composition of a menu, to layout of tables for your guests.
"Less formality, more team spirit!" – if you agree with this statement and wish to have a team building event, we invite you to do this in Lviv Karaoke "Become a star!" Big screen and 4 plasma TVs, innovative systems of light and sound, as well as comfortable atmosphere will contribute to easy and pleasant diversion.
Types of events to be hosted by Split Club Lviv
Efficient morning means business breakfast in Split restaurant. You will have a unique experience of easy day planning and working out of strategies. City center, all necessary equipment, comfort and 11 breakfasts from all over the world. Which one will you choose?
Business meetings of any format in the very center of Lviv – in Split restaurant. Arrangements to the last detail, provision of modern audio and visual equipment.
Rows of chairs like in a concert hall are a relic from the past. Try to host a conference in a new format. Choose not classic conference hall, but the restaurant of the Split Club Lviv. Hall of the fusion restaurant with comfortable booths (no need to make notes on your knees), plasma TVs around the perimeter of the hall (your content will be seen by everyone), microphones of high quality (you will be heard everywhere).
Convenient location, premium service, menu composition – we pay proper attention to details. We'll make your staying here comfortable by choosing the best table or separating certain area of the restaurant.
Buffet for up to 300 persons with starters and drinks from our chef Roman Shchurko. Lease of the whole hall or the half of the hall will allow you and your guest feel more comfortable. Background music will facilitate communication, while the light will create an informal atmosphere.
You may lease Karaoke "Become a star!" and to host there an unusual team building event. Big screen and 4 additional plasma TVs, 8 microphones and advanced sound and light system will be appliance hardware for your intended event.
To know more information and details of business event arrangements, please call: +38 032 242 22 00.
Our capabilities (fusion restaurant)
Multi-zone sound system with Bose Remote Control.

Wireless microphone Sennheiseser.

11 plasma TVs around the perimeter of the hall.

ANSI-lumen projector and screen in one of the areas of the hall and AV Screen 3V135MEK 289*181cm.
Four-channel mixer Pioneer DIM – 900NXS2.

Digital player and turntable Pioneer.

Light-heads and controller Showtech SM 8/2.
Our capabilities (karaoke)
Lviv center.

Round-the-clock restaurant service (certified as Luxe grade).

Food delivery to offices.

High-technology sound and lighting systems.

Big screen and 4 plasma TVs.

8 microphones.

Arrangement of team building activities, business meetings, lectures and workshops.

We are open to your ideas and preferences, therefore we are ready to host events of any type.

Banking transfer system and loyalty system.

Security.
Party in Lviv – party all over the city
Birthday party, corporate party, bachelor or bachelorette party, private party in Lviv? Split Club knows how to arrange an unforgettable party, always desirable to be hosted again.
We will consider all your preferences: from event format to photo zone and high spirits. Whichever celebration option you choose, we guarantee comfortable atmosphere and Luxe grade service.
Would you like to arrange a bachelor party as a present to your friend? Show-bar of the Split Club is the best place for bachelor parties, where the last unmarried night will stand out in your mind. We have 3 offers for the arrangement of the bachelor party: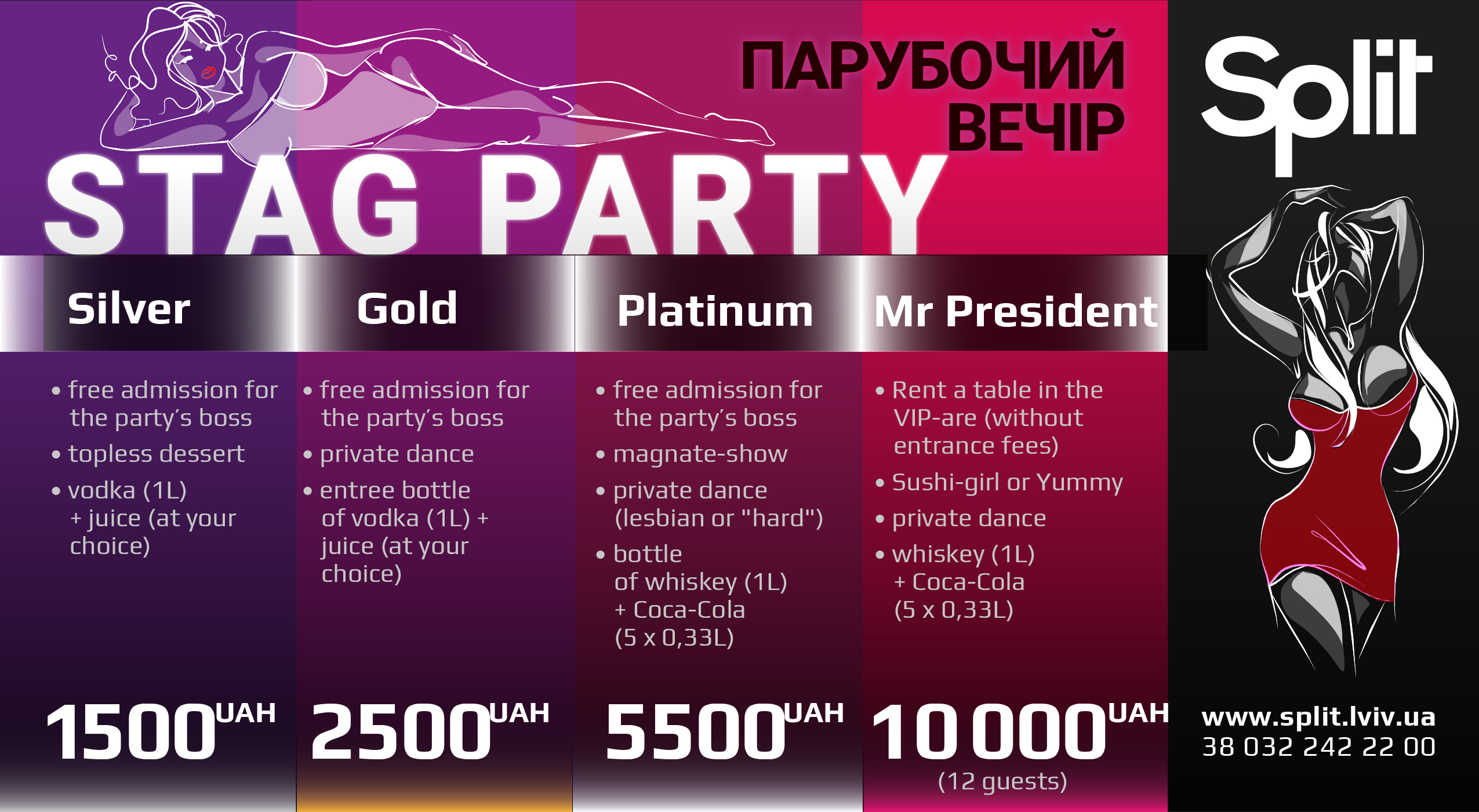 Karaoke "Become a star!" will be a perfect place for your bachelorette party, private party or secret party for your friends. We will close the karaoke hall for other visitors, so you may enjoy it whole night long! During the night (from 20:00 till 6:00) you will have a chance to meet sunrise dancing and singing non-stop. This marvellous night will be ensured by sound and lighting systems of high quality, professional sound technician and backing vocalist, as well attentive restaurant staff.
To know more information and details of karaoke event arrangements, please call: +38 032 242 22 00.
Gallery